Have you dreamt of owning your own business, working your own hours, or being your own boss?
With Jim's, you can achieve this, and more. When you become a Jim's Termite & Pest Control franchisee, you will receive everything you need to succeed in building your own business. We help you build genuine relationships with customers, generate your income, and enjoy your work.
We would love to hear from you right now, so enquire by calling 131 546 and talk to one of our friendly staff about this great opportunity.
Jim's franchises offer a unique business opportunity. We provide you with the training, support, advice, and assistance to build your own business. And once you're established, you'll have a dedicated team to take care of your advertising and customer enquiries.
As a Jim's Termite & Pest Control franchisee, you could provide a wide range of pest control services, including residential and commercial. We will give you the training to help you succeed with services like termite inspections and treatments, general pest control, pre-construction preventative methods, possum removal, and more.
There are currently franchisee opportunities available across the Gold Coast, including Coolangatta, Eden's Landing, Hope Island, and more.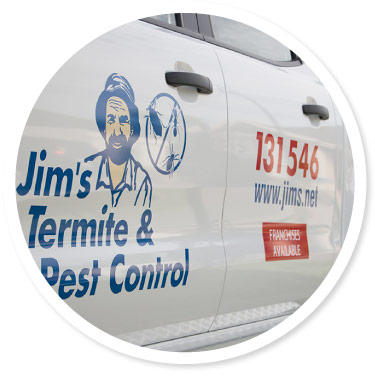 Why buy a Jim's Termite & Pest Control franchise?
From the easy establishment of your business to expert training, there are a lot of reasons people choose to become a part of the Jim's pest control network.
As a nationally recognised name, potential customers automatically view Jim's franchisees as reliable and skilled. Our franchisees are honest, hardworking, and trustworthy. At Jim's, we have maintained this reputation through expert training and mentoring of all our franchisees. And with these opportunities, you can earn more than any independent pest control technician.
Dedicated customer support and marketing team
Potential customers contact Jim's directly to enquire. Then, you can follow up and build authentic relationships with your customers. With our customer support and marketing team, you will have more time to develop your business.
Work when and where you want
One of our points of difference is local knowledge. That means that our pest controllers live in or around the area that they service. You will have the opportunity to provide service to the area you want, working when it best suits you.
To offer some pest control services, you must be licensed. We provide you with the training you need to get your licenses quickly.
Fixed monthly fees mean that you keep receiving the training and support that your business needs to grow. And, no matter how big your business grows, your fee will remain the same.
Building your own business can be challenging, but you have a work availability guarantee when you're a part of the Jim's network.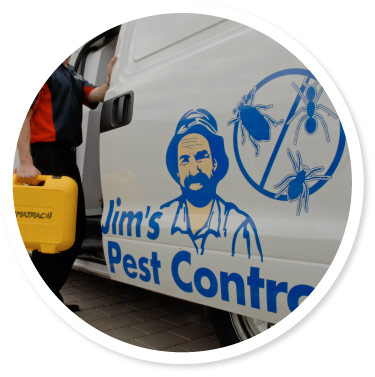 Who should buy a franchise?
Jim's Termite & Pest Control franchisees come from all walks of life. We have franchisees that work full-time, are semi-retired, or maintain other jobs while building their business. There are many ways you can work your Jim's franchise and build your income.
For those with pest control experience, becoming a Jim's Termite & Pest Control franchisee will help you build your skills, gain customers, and give you the support you need to run a successful business.
To enquire about buying a franchise, fill out the form below.