Do you need expert termite and pest control Gold Coast services? Locals trust the team at Jim's to treat and prevent pests in their homes and businesses.
With our national accreditation, modern methods, and local knowledge, we're ready to tackle your pest problems fast. And with our 100% satisfaction guarantee, you'll be able to rest easy, knowing your property is pest-free.
Why Jim's Termite & Pest Control Gold Coast?
Have you had a termite inspection this year?
If you haven't had a termite inspection this year, your home may be at risk. Termites cause millions of dollars in damage every year across Australia, which typical home insurance doesn't cover.
New and old buildings can attract termites, and government bodies suggest an annual inspection to minimise your termite risk.
We conduct thorough inspections that can detect termites before they cause expensive or irreparable damage. With every inspection, you'll receive a comprehensive report. We can then give you advice on the best termite management strategies for your situation.
Jim's Gold Coast can help with all commercial pest control requirements.
We are fully trained, licensed, and insured to offer commercial services from emergency pest control to ongoing pest management.
To minimise disruption to your business, we work around your operating hours, keeping your business and your team safe.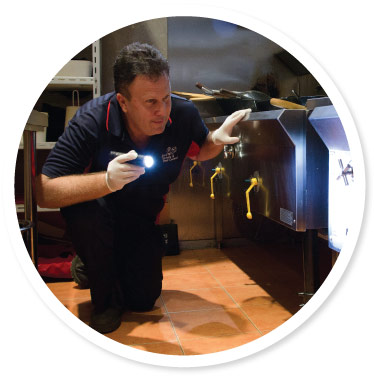 What can you expect from Jim's Pest Control Gold Coast?
Jim's Gold Coast is independently owned, and we genuinely care about our customers. Our local reputation is important to us, so we will always do what's best for you when it comes to your pest control.
As part of the national Jim's network, we can provide you with the best service at the best price. With the backing of the nationally trusted name and network, we get great savings which we pass onto you, up-to-date industry training and happily offer you Jim's famous 100% satisfaction guarantee.
When you contact us, we'll get back to you as soon as we can. We usually respond within the hour and can offer immediate quotes for some services.