Jim's is your local pest control  experts. Our techs servicing Gold Coast and surrounding area are experienced, fully trained, and insured. You can trust the Jim's name to help you with any pest problem.
Get in touch with us by calling 131 546 and our friendly staff will take your details.
Since 1984, the Jim's name has become synonymous with friendly service, local knowledge, and high-quality results. With the creation of Jim's Termite and Pest Control in October 2010, customers nation-wide have trusted their local Jim's technician to keep their home and family safe from pests.
Your Gold Coast pest technician is a small business owner, with great pride in their local reputation. With stellar reviews and the knowledge and experience required to provide great service, every time, you can trust us with your pest and termite control needs.
We provide a full range of pest control services, including termite treatment and control, prevention, inspection, and solutions for ants, rodents, cockroaches, bees, silverfish, spiders, bed bugs, and more.
Personalised termite & pest control
It can be hard to get truly personalised, real customer service in our modern world. But Jim's is different. Your local technician is not an employee, they are a business owner.
As locals, our reputation is important. That's why we build great relationships with our customers, ensuring that we provide you with knowledgeable service and caring follow-ups. And with a 100% satisfaction guarantee, we know you'll be pleased with the result – and the service you receive whilst getting your property pest-free.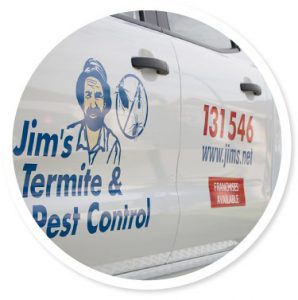 Modern technology & methods
As time passes, so does the efficiency of pest control. With your local technician's connection to the Jim's network, your pest controller will always be at the forefront of technology.
We use leading equipment and effective techniques every step of the way. From the initial inspection to prevention and treatment options, your technician will help you eradicate pests as safely and environmentally friendly as possible.
We are so confident in our ability to provide excellent, effective service, that we offer a 100% satisfaction guarantee. Your satisfaction, and your peace of mind, is what matters to us. That's why, when hiring Jim's Termite & Pest Control Gold Coast, the process is as hassle-free as possible.