Are you looking for Gold Coast termite control? You can trust the nationally-recognised Jim's name for safe and effective solutions. As your local experts, we use industry-leading control and detection methods to control termites on properties on the Gold Coast.
Your local technician is insured, licensed, fully trained, and experienced at controlling termites and other pests.
To speak to our friendly staff, call 131 546, and we will arrange a time for your local technician to contact you.
Why do you need Gold Coast termite control?
Termites are one of the most destructive pests in Australian homes If a colony enters your home, they can cause structural damage within just three months.
What can I expect from a termite inspection?
The Australian Standards and Choice and CSIRO recommend you get an annual termite inspection. Unfortunately, it's not enough for you to inspect your own home, as termites are notoriously tricky to detect due to their small size and stealthy nature.
Your local Jim's technician will perform a thorough inspection of your property, using their knowledge of termite biology and modern technology. Inspection methods include:
Imaging
Sounding
Moisture detection
Borescopes
Termatrac
To ensure that no termites are missed, your technician will check inside the home, including walls, door frames, skirting boards, ceilings, roof spaces, and under floors. Your technician will also inspect the outside area, such as landscaping, outbuildings, and fencing.
Following the inspection, we will provide you with a detailed report outlining the findings and suggested methods for termite control, as well as an accurate and price-competitive quote.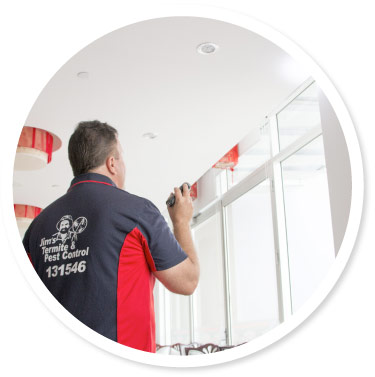 What does termite control include?
We offer a range of termite control methods to protect Gold Coast properties, including physical barriers, chemical barriers, bait stations, and more. Some of our most popular control options include Termidor, Biflex, and Sentricon AlwaysActive.
Once your home is protected by a control method, we recommend that you continue your annual inspections. An annual check of the baits or barrier ensures that they are still working as intended. With the right control method for your situation, implemented by a professional, your property will stay protected well into the future.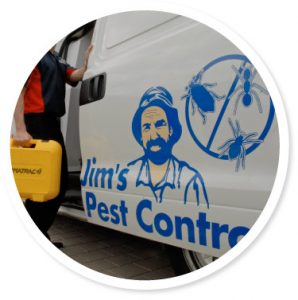 Why choose Jim's Pest Control Gold Coast?
The key to successful termite control is knowledge, professionalism, and understanding of your local area. When you hire Jim's, you can be sure that you will be getting help from the best. Your local technician is licensed, insured, fully-trained, and comes with the backing of the trusted Jim's name.
With your technician's local knowledge and modern methods, you can be sure that your termite trouble will be well taken care of.