For pest inspections on the Gold Coast, you can rely on Jim's. Your local pest technician is insured, experienced, and has local resident knowledge to find pesky pests that the untrained eye can't. Teamed with our modern inspection techniques, proven results, and friendly service, Jim's is loved by customers throughout the Gold Coast.
At Jim's, we offer general pest inspections and specialised termite inspections. By investing in a professional inspection, you can save thousands in repair and treatment costs and will be able to rest easy knowing that your home and family are safe.
To speak with our friendly staff and organise a time for your local pest controller to contact you, simply call 131 546 today.
General pest inspections are requested for many reasons, including suspicion of pest activity, moving into a new home, and preparing a preventative strategy.
Your local technician will use up-to-date methods and technology to inspect your property. If you have noticed pests on your property, we will also ask you to point out the area, giving you extra peace of mind.
During an inspection, we check every room, the subfloor (where accessible), wall spaces, roof voids, outbuildings, fences, landscaping elements, and more. We can then identify what types of pests are present, any high-risk areas for infestation, and potential nesting sites.
A thorough inspection is as important as any following treatment; it helps your technician effectively treat pests while using the minimum amount of chemicals in a safer, more environmentally friendly way.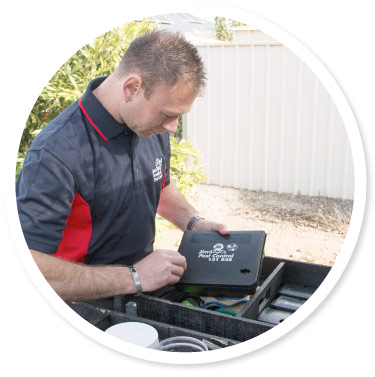 All homes should be inspected for termites. Choice and the Australian Standard AS3660 recommends that termite inspections are conducted at least once a year. While this may seem daunting, it's important to remember that the time and money spent on a termite inspection is minuscule compared to the potential costs of a termite infestation and their damage.
Even homes with a current termite management system should be checked each year to ensure that the system functions as intended.
Having a termite inspection helps prevent structural damages that are not covered by insurance and put you and your property at risk. Your local technician will find any active termites that may be causing harm, as well as potential trouble areas that can be targeted through prevention.
At Jim's, we are the leaders in termite detection. We use modern techniques and equipment, including:
Moisture meters
Borescopes
Thermal imaging
Sounding
Thermatrac T3i
And more.
This thorough inspection will take about two hours, after which your technician will give you a report outlining the findings and recommendations for treatment options and preventative measures.
Pre-purchase Pest Inspections
For an inspection before housing purchase, your local technician will be able to advise you on a few things, including:
Evidence of pests
Previous treatments that may have been conducted
High-risk areas
The presence of timber pests
Any current or future problems
It takes about three hours to conduct one of these general and timber pest inspections.
Hiring Jim's for your pre-purchase inspection will ensure that you're prepared for any eventuality in your new home. It may even stop you from buying a termite-infested property.
To book a pest inspection, please contact Jim's Pest Control Gold Coast Today