If you need affordable and friendly pest control, you can trust Jim's. To help you make an informed decision, we offer free pest control quotes for Gold Coast customers. Our quotes are reliable and competitive, giving you peace of mind when choosing your pest control company.
We look forward to chatting with you and finding out how we can help you with your pest problems.
Get in touch with us, by simply calling 131 546 and our friendly staff will take your details, or complete the form below.
Use the form below to tell us about your pest problem, and we'll be in touch shortly. For some services, we can provide you with an immediate quote. But for others, your local technician will come and conduct a free inspection of your property at a time that suits you.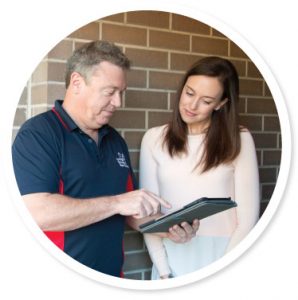 It can be quite a shock when you discover pests wandering around your home. Your thoughts will then be about how much it is going to cost to get rid of them yourself.
The thought of getting a professional in will hold you back, as most people think it will cost a small fortune.
Gold Coast residents are pleasantly surprised when calling Jim's, as we provide obligation-free quotes. Regarding some pest treatments, we will be required to attend the site to give you an accurate costing. This is often done at a time convenient for you, as our local business owners are not restricted by office hours.
Gold Coast residents are usually surprised at how little it costs to get a local Jim's tech to fix their problems.
Benefits of getting an onsite free pest control quote
Providing a free pest control quote on-site is preferred by our techs. This enables them to give an accurate figure as they can assess the extent of the pest infestation for themselves.
It will ensure that the pest species has been identified correctly, which can save you money.
For example, many clients call us to report termite mudding on a wall. Often when a technician attends the site, they will discover that mud wasps are the culprit, not termites.
If they had provided a simple quote over the phone, the price could have been a few thousand dollars. But instead, because they have attended the site and correctly identified the pest, the cost was only a few hundred dollars.
So, as you can see from this example it is always wise, where possible to get an on-site quote.
Comparing quotes – details are important
When comparing quotes, it is extremely important to look at the details. Many people think that pest control is performed all the same way using the same products. This is incorrect.
Every company has its preferred products. They will have even developed their own techniques that can be different to other pest control businesses.
For example, on general pest treatments, some companies will only spot spray, while other companies will put down a 30cm band spray. The best companies like Jim's Pest Control will treat entire surfaces to give maximum coverage.
You would be correct if you assume that there will be a wide range in prices from the above example. The effectiveness of treatment will also be varied.
Gathering as much information about the treatment as possible will ensure that you can make an informed decision. It will allow you to, as the saying goes, "compare eggs for eggs".
Confidence in products results in a great warranty
Companies that offer pest control warranties are confident in the products they use and the way they work. They also know their technicians are extremely skilled at applying these products.
This is the main reason why Gold Coast residents use Jim's Pest Control as warranties are offered on most jobs.