Businesses trust Jim's for their commercial pest control on the Gold Coast.
Commercial pest control is often needed to meet workplace health and safety standards or ensure a clean and safe environment for staff, customers, or guests. With full insurance, expert training and knowledge, and modern methods, you can rely on Jim's to help keep your business safe while running efficiently.
With our thorough and safe pest control methods, Jim's Termite & Pest Control Gold Coast is the number one choice for local businesses looking for pest management. We are fully equipped to provide commercial services, including one-off treatments, preventative treatments, and contracts.
Get in touch with us by simply calling 131 546 and our friendly staff will take your details.
Your local technician will keep pests under control, no matter your business
Whether you need pest inspections, prevention, extermination, or are dealing with a pest emergency, your Gold Coast technician is ready to help.
We service a range of commercial settings, including:
With kids, teachers, and other staff frequenting school grounds and various areas making up the larger school, pests are easily drawn to learning environments.
While some pests may be a nuisance, others are risky for students and staff's health and safety, meaning it's essential to prevent and control them quickly.
We conduct regular commercial pest control inspections of schools to ensure that your pest prevention strategies are suitable to the environment and continuing to work. You can be sure you're protecting everyone on the premises with minimal disruption.
Cafes, restaurants and food preparation
Professional, effective pest management is essential in the restaurant environment. With the responsibility of any food preparation, businesses must take a prevention-first approach to keep customers and business reputation safe.
Pests attracted to cafes and restaurants can carry diseases, risk customer health, and breach food safety standards. We will always work with you to quickly and effectively manage pests while minimising disruption to your business.
Every treatment we use is safe and meets relevant Australian food preparation and workplace health and safety standards.
Commercial workshop environments usually feature open spaces and many entry/exit points for people, making it easy for large and small pests to enter the workshop. Rats and mice like to hide in storage areas and can cause structural and environmental damage, putting your business and staff at risk.
We are experts at identifying, exterminating, and preventing pests in warehouse and workshop environments. Your technician will communicate with you to find the best course of action to minimise workplace disruption.
Office spaces are prone to pests like ants and cockroaches, bringing in diseases and contaminating food. We know that efficiency is essential, so we work to ensure minimal disruption to the office routine.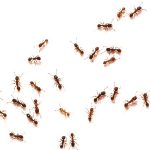 Why choose Jim's for your commercial pest control?
Your local technician is a business owner, so they understand the importance of keeping your business running with maximum efficiency.
That's why we use a prevention-first approach tailored to your individual needs. By setting up a monthly or quarterly servicing schedule, your business can run uninterrupted, and you can leave the pests to us. And when immediate treatment is needed, your local technician can be on-site quickly to safely and effectively eliminate any pests.
Your technician is trained, insured, and experienced in managing pests in commercial environments. Jim's Termite & Pest Control Gold Coast is a great choice to help you make informed pest control decisions, no matter your industry.
For commercial pest control solutions, contact Jim's today.