Do you need the help of a pest exterminator on the Gold Coast? Jim's Termite & Pest Control are here to help.
Your local Gold Coast technician is fully trained, security checked, insured, and backed by the trusted Jim's name. We use modern methods and technology to locate, prevent, and exterminate pests in homes and businesses across the Gold Coast region.
Call 131 546 today to speak to our friendly team about your pest control needs.
Why Jim's Termite & Pest Control Gold Coast?
Our goal is to provide excellent pest control services in an easy and stress-free way. We have refined our processes to be as simple as possible, giving you peace of mind with your pest control.
We achieve this through:
While we can provide immediate quotes for some services, we also attend properties to give an accurate quote. If your situation is not an emergency, your local technician will visit and assess your pest problem for free. Then they can suggest the best control method and provide you with an accurate quote.
Not every situation is the same, so our technicians will offer the best range of treatment options to suit your problem and budget.
Jim's Termite & Pest Control Gold Coast are small business owners linked to the national Jim's name. We can pool our resources to lower expenses and pass those savings on to you.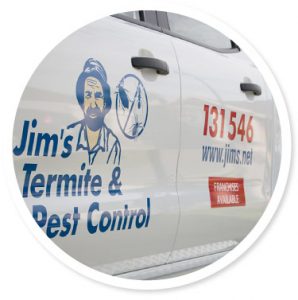 Jim's are trusted for pest extermination on the Gold Coast
Here's a few of the reasons why:
Your local technician is extensively trained on the most up-to-date pest control methods and technology.
We respond to your enquiry quickly, usually within the hour, and can provide immediate quotes for some services.
Pest control shouldn't be difficult for you. We arrange appointment times that suit you and your schedule.
We offer a 100% satisfaction guarantee – if it doesn't work, we come back until it does.
Police checked, licenced, and insured
For your peace of mind, each of our technicians has the appropriate police check, licence, and insurance for the service provided.
Our extensive network helps keep our prices down, so you can get superior service for less.
Nothing beats local knowledge. Your technician lives in the area that they service. So, they know the climate, environment, and individual needs of your property.
We have a wide range of customers who love and trust us for their pest control.
What areas of the Gold Coast do we service?
Jim's Termite & Pest Control service all areas in the Gold Coast, with dedicated technicians in the following suburbs:
We love our Gold Coast customers and are continuously expanding our service areas to provide you with excellent pest control at low prices.
To discuss your pest extermination needs, contact Jim's Pest Control Gold Coast Today